Approved Contractors For
Loft Conversions

in Middlesbrough
Loft conversions in Middlesbrough are a great way to expand your home's living space and making the most of a space that would otherwise be largely unused. We know that a house is an expensive investment and you want to make the most of what you have, whether it be to accommodate a growing family with additional bedrooms, a bathroom or a play area for young children, or for an office space as more and more people work from home.
All these options and much more besides are achievable in your loft space to help improve your quality of life without the disruption of moving home. There are various types of conversions available, including: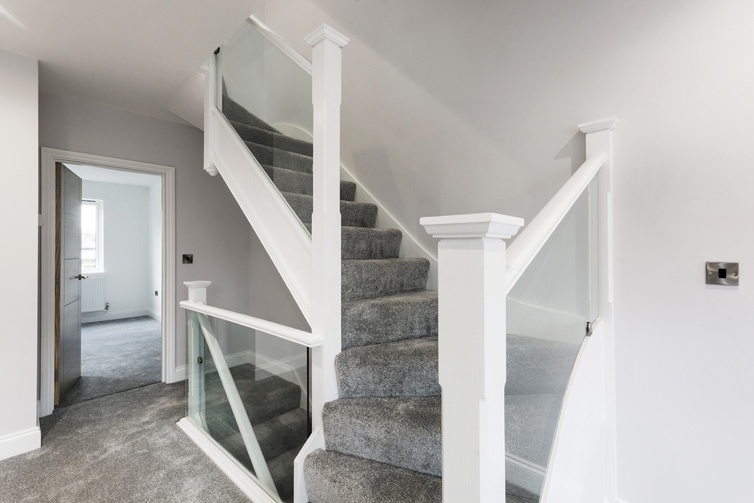 DORMER LOFT CONVERSIONS IN DARLINGTON
A dormer loft conversion is an extension to the existing roof that projects vertically from a sloping roof, creating additional floor space and headroom within the property. Internally, a dormer has vertical walls and a horizontal ceiling. It is the most common type of loft conversion, as the flat roof dormers often add the maximum amount of additional space. In addition, it is possible to create a gable front and a hipped roof dormer to make it look more attractive, however these types of dormers do not offer as much internal space.Additionally, due to the added complexity, a gable front and hipped roof dormer will cost more to build. The l-shaped dormer loft conversion is also very popular and is often considered the best way to extend a mid-terrace period property which are prevalent in Middlesbrough to maximize space as it can give around 40m3 of space or slightly more under planning.
Advantage: Normally a dormer loft conversion can be constructed without gaining planning permission, although planning permission may be required depending on the specifications.
Mansard Loft Conversions in Middlesbrough
A mansard loft conversion, named after the 17th-century French Architect Francois Mansard, is situated to the rear of the property. This type of conversion has a flat roof, with the back wall sloping inwards at an angle of 72 degrees. Windows are usually housed within small dormers.
Mansard loft conversions in Middlesbrough normally require planning permissions, due to the large changes to the roof shape and structure. In addition, we specialise in l-shaped mansard loft conversions, which can really open up the space and add even more value to your property. The l-shaped mansard loft conversion works particularly well if you are converting the loft into an open-plan bedroom with en-suite.
VELUX LOFT CONVERSIONS IN DARLINGTON
Velux Loft Conversions in Middlesbrough are also known as rooflight loft conversions. Velux is the leading manufacturer of roof windows so hence the name. With this type of project, the roofline is unaltered, as the velux windows are installed fitting flush to the roofline, leaving the original roof structure untouched. Therefore, planning permission is not generally required, making it an attractive option for many. Also, due to the fact that no large alterations need to be made to the roof, the cost of the conversion generally remains lower.
HIP TO GABLE LOFT CONVERSIONS IN DARLINGTON
The majority of houses that are hip roofed in style tend to have a reasonably small internal volume, so for a conversion to be practical, a hip-to-gable conversion is a smart solution. This type of conversion involves changing the sloping side of the property to a flat gable end. This increases the size of the loft space, often creating extra space for the staircase. As this type of loft conversion changes the outline of the roof, planning permissions may well be required. We also specialize in l-shaped hip-to-gable loft conversions.
ROOF TERRACE CONVERSIONS DARLINGTON
Planning regulations have become more relaxed of late in relation to roof terraces. Roof terraces always require planning permission so are dependent on the leniency of local planners for permission. In our experience roof terraces appear more popular in areas with a large number of flats as space is a premium and gardens tend to be either small or dark, or both. Recently we have done a number of conversions with roof terraces in Middlesbrough for these reasons and have noted that these are the properties that have then sold for record amounts in the area!
Energy Saving Benefits with a loft conversion
Nowadays there are many options available to help you save energy when converting a loft or attic into a new living space – here are some of the key benefits:
Much improved insulation values to loft and roof
Energy efficient light bulbs can be fitted
E-glass fitted to all new windows
Solar panels can be fitted to roof during the project
New energy efficient boilers can be fitted
Wherever possible we use eco-friendly materials
Any project waste is recycled wherever possible
These energy saving improvements to your home will not only reduce your fuel bills, but will also give your house a better energy performance rating.
Contact LA Roofers

For more information or to arrange a free survey and quotation for a loft conversion in Middlesbrough or any other services please contact our team today.